Please wait ....
Syncronizing with fortnox
GUIDE TO CHANGE BLOCK ELEMENT ON HIPSTER PULS
ESTIMATED TIME
25 minutes.

TOOLS NEEDED
Allen key (Hex key) 2.5 mm.
Allen key (Hex key) 5 mm.
TÅNG.


NOTE 1 Block heaters are connected directly to the mains. DO NOT WORK ON THE HEATERS WHEN THE POWERCORD IS CONNECTED TO THE HIPSTER.


NOTE 2 There are two Block heaters in the brewer, make sure you are changing the correct heater.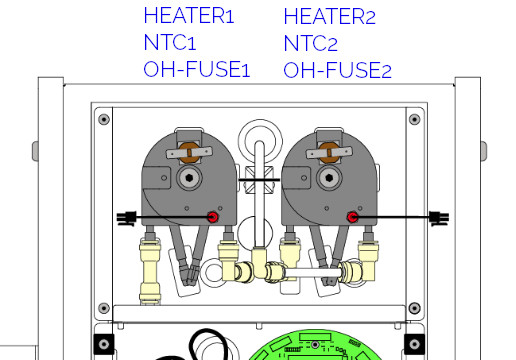 STEP 1
IMPORTANT! ALWAYS REMOVE POWER BY UNPLUGGING THE POWER OUTLET BEFORE DOING ANY SERVICE ON ANY HIPSTER BREWER
STEP 2.
REMOVE THE UPPER BACK COVER

STEP 3.
REPLACE HEATER
Remove NTC
Remove OVERHEAT PROTECTION
Remove POWER CABLES
Remove WATER CONNECTIONS